De Tommy Sessies – 3. The TommyGun!
In een eerdere blog schreef ik al over het smashen van gitaren, en dat ik nogal wat bedenkingen had bij dat fenomeen als ik in mijn verzameling kost- en dierbare instumenten aan mijn geestesoog voorbij liet trekken. Ik was niet van plan om die "for the sake of art" te gaan staan versplinteren. Aan mijn gitaren geen polonaise!
Er was maar één oplossing: er moest een gitaar bij, speciaal voor het smashen. Je bent gek of je bent het niet. Ladies and gentlemen, may I introduce you to… *tromgeroffel* The TommyGun!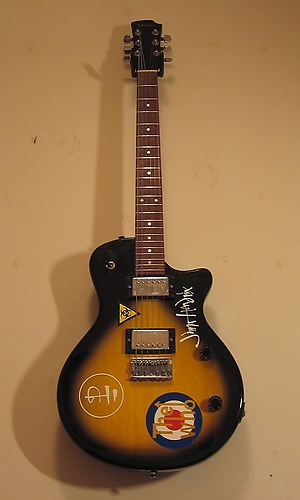 Ik vond haar voor € 35 op marktplaats. Na een uurtje of vier op de werkbank zaten alle fretten op de juiste plek, had ze stemmechanieken die het deden (in plaats van net alsof) en prikte ik haar in mijn versterker. Wat schetst mijn verbazing: dit grietje klinkt als een BEEST! Bijna zonde om kapot te gaan meppen..
Anyway, we zullen zien wat ervan over schiet na vier shows in mei. Details: de logo's zijn van The Who (spreekt voor zich) en Pink Floyd. De handtekening is van Jimi Hendrix (fameus gitaarmepper), de gele driehoek is een authentieke biohazard sticker, zelf gejat van het moleculaire lab.
Komt dat allen live zien, 24 t/m 27 mei in de Junushoff in Wageningen. Boek op www.sempresereno.nl! En nu maar hopen en bidden dat ze me niet in een hoekje wegstoppen in de orkestbak..